Hi all,


So here goes.. i'm wondering if anyone else is in the same boat?
So, let me set the scene first of all. So home town - Birmingham, current town i live in - Nottingham and proposal town - Kilkenny (Ireland).

So once i got engaged in February i already knew the ideal perfect venue in Nottingham, loved it when i went for the open evening and didn't think of anywhere else. So then, everyone said no its traditional for the girl to get married in her home town blar blar so then i went and seen the most beautiful venue in Birmingham and i was sold. Forgetting all about the Nottingham venue.
However, with the Birmingham venue its part of the Cripps and Co group dotted all around the UK and the only thing which was stopping me from confirming my 2025 date was that the prices was not confirmed and was told many times that the prices were to increase but to what as a maximum they could not tell me. Roughly around the 13/14 grand mark JUST for the venue alone, no cars, dress, accommodation etc.
Anyway fast forward to weekend just gone when i went over to Kilkenny Ireland again with my dad for his birthday, Kilkenny is a town in Ireland where i have lots and family and visit at least twice a year, more if possible. Josh (my partner) took me in February and out of complete surprise he got down on one knee right in front of the CASTLE!! Anyway let me back track a little, on Monday me and my dad were sat along the river at a bar overlooking the exact spot josh proposed and i wondered if this place where i was sitting done weddings? (The bar was a hotel). Please see picture below of my view and setting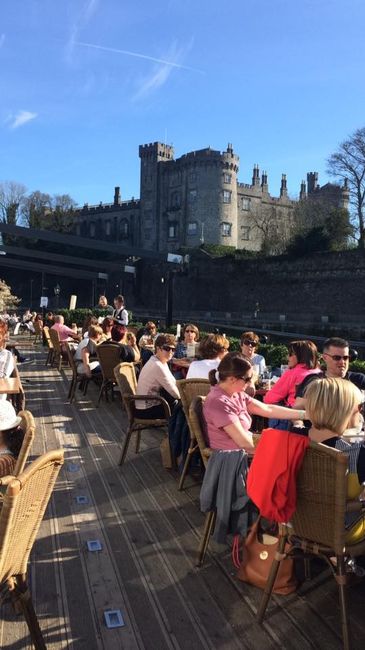 So i went to the hotel reception and asked and much to my surprise they gave me a brochure in the most stunning presented bag, nail file in the bag, a pen and also a box of chocolates. Onto the main bit - Pricing! Believe it or not, the venue in Ireland was working out at half of the price of the Birmingham venue alone. And not just that but the Ireland price was for more people, a Saturday date in Summer.
In comparison to my Birmingham Friday February wedding for 60?
I've now got the task of convincing my fiancé but also gathering details of how easy is it to plan a wedding away from home, does the cost rise unexpectedly, or would i be a fool not to go for it?
Opinions, advise ALL welcome.
Thank you xxx