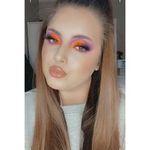 Shannon
Barry, Vale Of Glamorgan · From March 2021
I'm Shannon, I'm 23 years old from South Wales. I have been with my husband to be for 6 years this year and we are getting married August 2022. I love... View more
I'm Shannon, I'm 23 years old from South Wales. I have been with my husband to be for 6 years this year and we are getting married August 2022. I love everything makeup and hair.
🕐 Wedding Countdown...
10 August 2022

Lets Talk Honeymoons!!
Where is everyone going on their honeymoons and for how long? Why did you choose that destination? Is it a special place for you and your partner? How did you decide where to go? I WOULD LOVE TO KNOW...

Help!! Groom gift ideas
What is everyone getting their H2B as wedding gifts? I have a couple of ideas but need more.

Centrepieces
What is everyone having for their centrepieces? We are looking at making our own hoop centrepieces with flowers and make our own table numbers, the picture is our inspiration! Bonus points for...