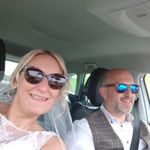 Charlotte
Salisbury, Wiltshire · From May 2021
we are planning a wedding with a difference to encompass the joining of 2 families and I cannot wait to be his Mrs!
Happily married 🎉
30 April 2022

Introducing the new Mrs Young!!
We did it!! The stresses and worries about the weather were pointless as despite rain, cold and grey skys for a week before and predictied for the day, I awoke to wall to wall sunshine on the day!!...




6